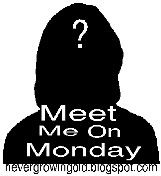 Meet Me on Monday is hosted by
Never Growing Old
and it's a meme for bloggers to get to know each other one Monday at a time.
This week's questions:
1. What is the best dish you can make?
Chicken tacos. And I make them
all the time
!! But I'm working on trying to mix flavors and venture out. I made this spaghetti chicken dish for my brother & I one night and he loved it. I think some of my best things is when I just randomly throw stuff together.
2. How often do you change your sheets?
About once a week to every other week. It's only me in the bed...and I know where I've been. :) I only have one sheet set so when I need to wash them...I go without sheets if I'm too lazy to put them back on when I dry.
3. What is the longest car trip you have ever taken?
Most likely from here(Springfield, MO) to Long Beach, Mississippi...it's about a 12 hour drive to the coast. Georgia & Florida were far as well, but not as long! I miss and love the south, I would take that trip once a week if I had to!!
4. What is your favorite fruit?
I have no idea! I love mixing fruits. I don't think there's many I can eat by themselves. Okay a lot: grapes, bananas, oranges, apples, kiwi...
But my favorite combination is bananas and strawberries.
5. Would you rather have breakfast for dinner or dinner for breakfast?
Definitely Dinner for breakfast. I rarely eat breakfast foods....but I love any kind of dinner for any time of day. Oh who am I kidding, whatever I feel like eating I'll eat. Whether it's "supposed" to be for dinner or breakfast or lunch or brunch or linner(lunch + dinner)!!